What are the Best Cable TV Packages and Deals for 2021?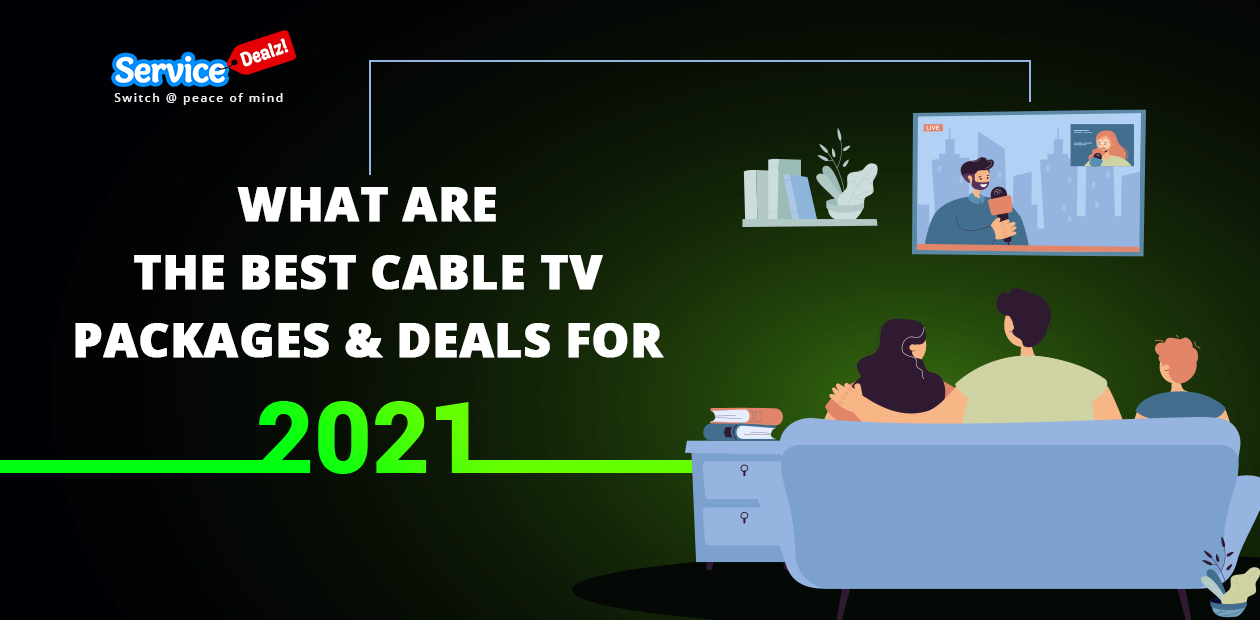 Looking for the best TV deal? Do you want a tailored channel lineup? Or, are you after the cheapest TV service available?
No matter the reason, exploring all the given options from leading companies near you will be your best bet. And if you are unsure of what you are looking for, ServiceDealz – a top digital d platform – will come to your rescue. We can help you search and compare the best Cable TV deals available.
Finding the Best & Cheapest TV Packages
These deals or packages are among the best TV has in store for you. However, they are not exactly low-priced. As you are aware that the good stuff never is, making an investment in one of the top-notch offerings will be a smart move. It is about time you experienced a change in your TV forever.
Here is how you can shop with confidence when looking for a cable TV deal:
Search Providers near You: TV providers vary by location. You need to key in your zip code to find the top cable TV service providers near you.

Find the Right Plan that Meets Your Needs: Now compare TV service providers when it comes to choosing the best price. Also, you need to take channel count and special offers into account when making your choice.

Count on Our Experts: At ServiceDealz, our experts will help you zero in on the best cable TV deal that best meets your need and purpose.
Leading Cheap Cable TV Providers near You
TV service does not have to cost an arm and a leg. There are countless renowned providers that offer a basic cable TV service that comprises not only local channels but major networks at a competitive price. If you are looking to get the most bang for your buck, we can help you find the best deal that will be a true value for your money. 
Some of the Top Providers that Offer Cheap Cable TV Packages and Deals
Listed below are some of the best and cheapest cable TV packages and deals you would want to consider.
AT&T TV

Spectrum TV Select

Xfinity Basic

Verizon Your Fios TV

Cox TV Starter
How Can You Choose the Top TV Provider?
You will be able to grab the best deal you need as long as you know what you need to look for. Here is a list of some of the most useful tips that will help you find the right cable TV provider and plan that will be the best for your home:
Make Sure You Shop Around: It is always good to consider all the top providers in your area before you choose to narrow down your options and settle for the best of all.

Do Consider Bundling: When you bundle home service plans with only one cable TV service provider, you will be able to save a great deal of money. 

Add in Equipment Fees: Nobody likes surprise bills. They are not fun at all. Consider how many TVs in your house you will be needing receivers for. Also, you need to decide on if you want a DVR service and if you feel the need for add-ons. It is important to know that all of these things are likely to increase your TV bill every month.

Do Some Digging on the Channel Lineup: Ensure that you check your lineup, which is incorporated with your plan instead of counting on the number itself (125 channels). If your favorite shows are not included in the plan, it won't be worthy of the plan you are likely to opt for. 
What are the Cable TV Advantages?
Weighing cable TV against other types of home TV services available, including satellite or streaming? If so, then you must consider some of the most significant advantages cable TV provides.
Reliability: Cable TV service is not as vulnerable as satellites to disruptions in service owing to bad weather.

Package Selection: The majority of cable TV service providers out there offer three or more different packages for TV, and several other add-ons for movies, sports, and more.

Bundling: Cable TV companies usually provide home phones and internet. Also, they may offer some extra incentives for bundling. Can it get any better?
With us, you can look forward to getting expert advice on how to shop for the cheapest deal from a top TV provider and what type of TV service might serve you better. Cable TV deals offer you a great way to get your TV sorted in one subscription. And with a wide range of options available from some of the trusted and renowned Cable TV service providers, you can take your pick from the ones that best meet your need and purpose.