5 Factors to Consider When Choosing an Electricity Service Provider in the USA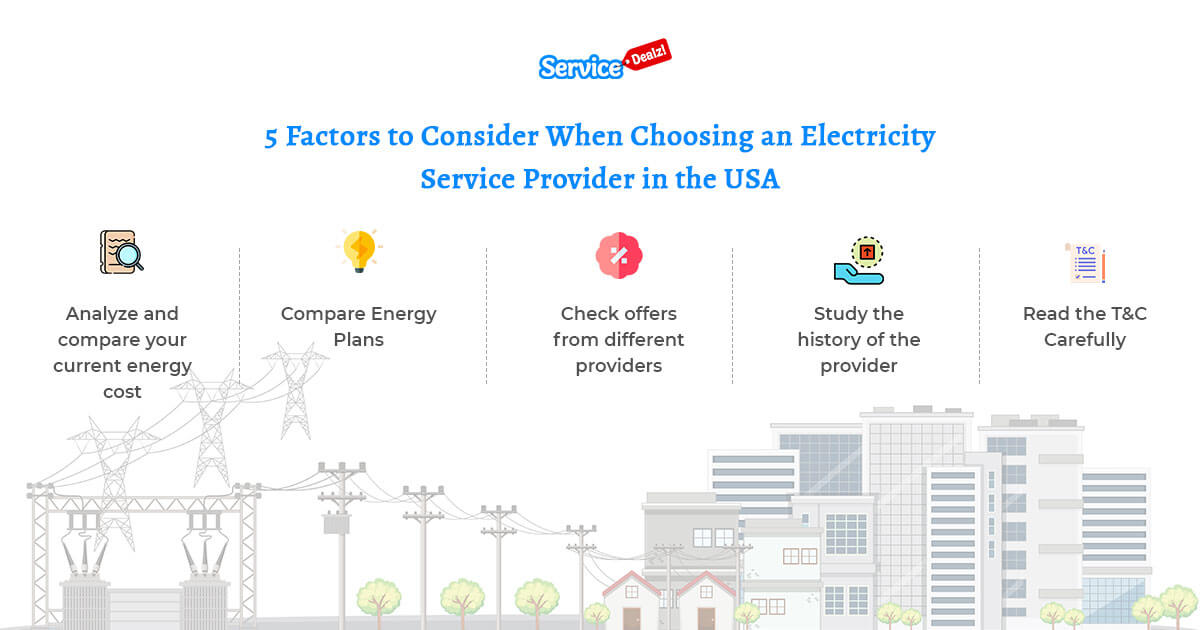 Most Americans are concerned about their big energy bills despite reduced usages during winter months and changing weather. Are you also among those looking for a respite from intimidating energy bills? If yes, then here is a piece of important information worth reading. If you live in a state that has deregulated energy, you can easily save up to 20-30% and even more if you shop for your electricity plan wisely. Thanks to energy deregulation in many states across the nation, Americans have the freedom to stay with their current energy plans and providers or to make a switch to another provider or plan, whichever they need and prefer. While looking for a new provider, most people want to ensure a generous saving on their current energy bills. Most deal providers take undue advantage of this and showcase deals that appear to be cheaper but turn out to be huge because of hidden charges and costs. 
How to search for the best electricity service provider in my area?
Do you find it difficult to search for the best energy plan in Texas or any other state you live in? Are you moving to another place and, therefore, looking for the top energy providers in the area or you want to switch to the services of another provider in your area? Remember there are a few important factors that must be considered before you actually shop for an electricity plan anywhere in the USA. I'm going to divulge the most important 5 factors that need your consideration while you are on the lookout for the best electricity service provider in your area. 
Analyze and compare your current energy cost: When contemplating service switch, it is prudent to analyze and compare your current cost of energy. If you find the task tedious, you may try using some online resources that let you quickly compare your current service and make the right decision. You can check our energy calculator to get a fair estimate of your monthly energy bill. Knowing your current energy bill and cost will help you make an informed decision. 

Compare Energy Plans: Even if you want to make a quick change, make sure you take some time to compare electricity plans from different vendors. While the base energy rates will not change across providers, you can expect some decent discounts and offers from the providers. Compare the deals they showcase on their websites and choose the one that is best for you, bearing in mind your electricity usage, rates, etc. Pay attention to the TDU charges as different providers have different TDU charges and that may eventually affect your total cost of energy per month. 

Check offers from different providers: Choose your provider carefully and, if you want to ensure long-term savings on your electricity expenses, always check offers from different providers. Remember you don't switch your utility provider every other day. Make sure you enter a good, money-saving plan and stay in the contract for at least 24 months. Choosing a long-term plan at cheaper rates will not only save you from the hassle of switching providers with weather and usage changes, but it will also help you curb energy costs during winter when usage is low and summertime when the usage is high. 

Study the history of the provider: Before you finally zero in on the electricity provider, it is highly advisable that you closely examine the history of your service provider and see what their current customers are saying about them. Is your chosen electricity provider one of the highly sought-after? If the electricity provider has a good track record, it is a green signal for you to go ahead with your decision. But if you have even a zilch of doubt in their professionalism and reliability, remove them from your list of shortlisted providers. 

Read the T&C Carefully: Last but never the least, don't miss out on the terms and conditions of the service provider as that will help you make an informed decision. Most important things are mentioned in this part of the website and it makes complete sense to go through their terms and conditions and privacy policy before making a service switch. 
ServiceDealz is a unique platform that brings together the cheap andbest electricity plans from multiple providers. Our selection of deals is totally unbiased and you can choose from popular electricity deals, best deals, and deals specifically recommended for you. Deal search and compare is easier with us. All you need to do is key in your zip code and begin your hunt for the supersaver electricity plans in Texas or elsewhere in the USA. We let you compare deals from different providers and choose the one that best fits your usage. 
We have partnered with some of the most preferred electricity,internet,tv,home security, andwireless service providers nationwide, which means you have more options to choose from. There is no need for you to spend hours scouring the websites of all those providers and checking each deal manually. Rather you can simply check the deals from different providers and run a quick comparison right here. Deal searching is now a child's play! What's more, you can download ServiceDealz mobile app on youriPhone orAndroid device to check deals anytime, anywhere. Get the app to start searching and saving immediately on electricity and other home services. Furthermore, our free electricity calculator is a great tool that helps you get an estimate of your monthly electricity bills based on the energy rate, units consumed, and other important contributors. Try our free energy calculator!